Autotransport.com
Mercedes-Benz Vehicle Shipping
Mercedes is a leader in the luxury automobile market. Sleek yet functional, this elite car manufacturer is an icon of comfort and style. With nearly 100 years in the auto development industry, Mercedes has made it their mission to provide the best – or nothing. When it's time to move your Mercedes across the country, there's only one company you can trust to move your car – Autotransport.com. Trusted, bonded, and professional, autotransport.com focuses on the best Mercedes transfer services.
Trust Autotransport.com to ship your Mercedes. The Mercedes-Benz company has spent decades mastering the combination of safety and posh luxury. From the crumple zone in 1959 to the airbag in 1980 and PRE-SAFE® braking in 2002, Mercedes-Benz has developed many of the leading-edge automotive technologies in use today. From the beginning, Mercedes has maintained their reputation for quality and durability. They've consistently scored high in objective measurements, such as J.D. Power and Associates surveys.
1. Scheduling the Pick-Up
The Cargo-Loading Overseer continuously keeps tabs on the progress of the shipment. Ensuring the highest quality service.
2. Transporting Your Mercedes
The Driver and Crane Loaders each play a crucial role in making sure the routes and deliveries are completed in a timely manner.
3. Deliver to Your Door-Step
The Logistics Manager ensures communication with the customer is efficient and the allocation of resources is according.
Mercedes Vehicle
Transport Services
Mercedes offers a full range of passenger vehicles, light equipment, and heavy construction equipment. As a leader in the field, Mercedes has made strides to incorporate alternative propulsion into its family of vehicles. This includes fuel-cell powertrains, hybrid gas/ electric, and fully electric vehicles. In a partnership with Smart Cars, using plug-in electrical batteries and a lithium-ion battery. The company is now working to develop more fuel-efficient cars, as well as developing the functionality of a solar energy-based combustion engine. This is leading toward a rapidly growing market and taking the shift away from traditional, fossil-fuel powered vehicles. Moving into the future, Mercedes remains committed to producing top-of-the-line cars and SUVs, with emphasis on luxurious innovation.
Mercedes Models
We Currently Ship:
A-Class – Subcompact luxury Hatchback / Sedan/Saloon
B-Class – Subcompact luxury Multi-Purpose Vehicle (MPV)
C-Class – Compact executive Sedan/Saloon, Estate, Coupé, and Cabriolet
CLA-Class – Subcompact luxury 4 Door Coupé and Estate
CLS-Class – Mid-size luxury 4 Door Coupé and Estate
E-Class – Executive Sedan/Saloon, Estate, Coupé, and Cabriolet
G-Class – Mid-size luxury Sports Utility Vehicle (SUV)
GLA-Class – Subcompact luxury Sports Utility Vehicle (SUV)
GLC-Class – Compact luxury Sports Utility Vehicle (SUV)
GLE-Class – Mid-size luxury Sports Utility Vehicle (SUV)
GLS-Class – Full-size luxury Sports Utility Vehicle (SUV)
S-Class – Full-size luxury Sedan/Saloon, Coupé & Cabriolet
SL-Class – Grand Tourer
SLC-Class – Roadster
V-Class – Multi-Purpose Vehicle (MPV)/ Van
AMG GT – Sportscar
X-Class – Luxury Pickup Truck
Trust The Professionals
to Ship Your Mercedes
When you need someone to transport your Mercedes vehicle, Autotransport.com has a wide variety of options to suit your needs – and your budget. Safe, bonded, and professional, Autotransport.com knows how to transport your Ford across the country. Submit your quote request, and see just how easy it can be to ship your Mercedes car or SUV. We specialize in moving vehicles locally and internationally. Whether it's within the same state or abroad, you can access all services under one roof. Our team of professionals makes sure each operation is successful, and this has made us come to terms with some of the most efficient routes. Moreover, our seasoned team of drivers makes sure every operation whether big or small has all the resources in store to make it successful.

For instance, before the process, we make sure that the cars are strapped in place with nylon fasteners and covered with netting to prevent the delicate parts from getting damaged.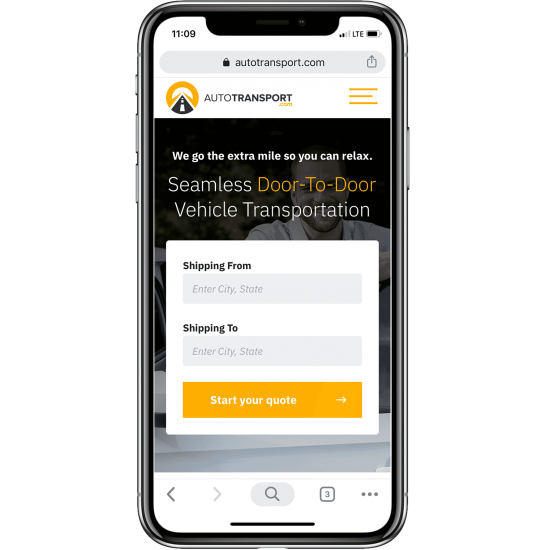 We can handle
any shipment.
We've got you covered for all
Complete the Form for Your Free Quote